Fall Out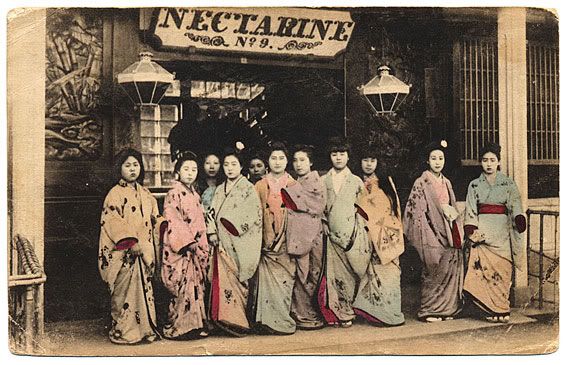 The mystery has been solved.
Over at the official Fire Engines site, someone posted a vintage postcard that would appear to explain the origin of the name of head Engine Davey Henderson's current band.
Apparently Nectarine No. 9 was the address of a rather famous brothel in Yokohama around the turn of the century. Rudyard Kipling even immortalized it in his 1894 poem,
McAndrew's Hymn
:
Blot out the wastrel hours of mine in sin when I abode
Jane Harrigan's an' Number Nine, the Reddick an' Grant Road
And here I thought it was just another pomo non-sequitur.
Speaking of the Fire Engines, their new compilation
Codex Teenage Premonition
has been released in the UK, with a domestic release scheduled for mid-November. There'll be a clutch of UK dates to publicize it, but no such luck here. And that'll be the end of their short-lived resurrection. If you've yet to hear them, this is the perfect and most cost-efficient way of enjoying one of the most unique and influential bands to come out of the tumult of the post-punk scene in the late 70's/early 80's.
The only other CD collection of their work,
Fond
, is long out of print and, although many of the titles here will be familiar to fans, the performances themselves won't be. Sounds like the US version may even score a couple extra tracks, too, including their half of the limited single they recently shared with Franz Ferdinand that featured both bands doing one of the other's songs.
Before leaving the topic of
The Fall
, I had a look at some of the reviews of their current UK tour over at the band's message board and was dismayed to find that a) Mark E. Smith appears to have revived some of the bad performance habits that have notoriously sunk his career in the past (walking off after 15 minutes, screwing with the band's instruments, acting like 2-year old child, etc.) and b) even worse, there are fans who are willing to forgive any kind of behavior on his part and will rationalize his contempt for his audience by claiming that he's a dysfunctional genius and that 16 quid for a 35 minute show is better value for money that any other group's full-length program because he's godlike, etc.
And I'm going easy on them. There are posts that claim that "the chaos is part of the performance" and that this petulant behavior is "part of Mark E. Smith's vision."
In other words, there's a generation who's grown up with the idea that Smith's inability to put on a proper show without behaving like an infant is somehow part of his charm.
It's like listening to the Bushies proclaiming the charm of Dubya's inability to form an articulate sentence.
There are, of course, many posts by folks as old as I who remember when he actually led the most ferocious band on the planet before he threw it all away, thanks to hubris and alcohol.
So let me get this straight: this is the guy who berates every other band in the world for laziness and stupidity and their audiences for being idiot lemmings who go to see whatever they're told.
Maybe he's right. Imagine those poor folks, suffering through full-length sets by performers who don't treat the audience like crap. Must be awful!
I picked up a very enjoyable slice of oldies fun the other day.
Mutant Disco 3: Garage Sale
is another collection of sides from ZE Records that features some tracks I haven't heard since their original appearance in the 1980's.
I hardly ever dig out the vinyl any more, so these kinds of collections are always a convenient and fun memory jog.
A thrill to hear some of these again: Sweet Pea Atkinson's
Dance Or Die
, which I loved, Junie (P-Funk) Morrison's
Techno-Freqs
("Evacuate your seats!"), and other stuff from Kid Creole, Coati Mundi, Aural Exciters, Was (Not Was), and one of my very favorite Suicide tracks,
Dream Baby Dream
, which Bruce Springsteen is currently using as a show-closer accompanying himself on some kind of pump organ.
You try and come up with a phrase to describe this stuff and you realize…it really
was
Mutant Disco.
Damn.