'Til Things Are Brighter...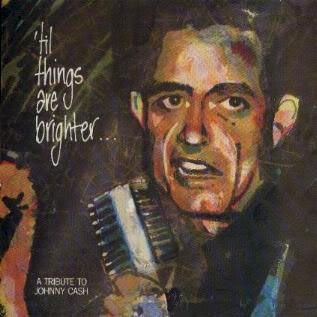 Allow me to indulge, then, in a little nostalgia.
There's a lot of moving going on at the moment, things going in and out of storage. Much of it has been the vinyl collection, which I haven't gotten to spend time with in a while.
I've managed to find CD replacements for much of it, but there's still plenty that eludes me.
What it brings back immediately are all those evenings spent behind a microphone, after having lugged a good few boxes of vinyl with me. The adrenalin spike of hitting the cues, finding the perfect segue, often while the city slept and you were its aural guardian.
There was nothing like it.
That period of my life when every single bit of money went into vinyl, when there were artists whose latest releases you bought simply by virtue of their name.
Mostly it brings back that period in the mid-80's that I think of as my last hurrah, when there was a final flurry of bands that I actually cared about and whose music still meant everything to me.
I thumb through the vinyl and find them where I left them:
A Witness, The Three Johns, Membranes, bIG fLAME, The Great Leap Forward, Marc Riley and the Creepers, 5 Go Down To The Sea, Dog Faced Hermans, Bogshed, Stump, The Bomb Party, Yeah Yeah Noh…
I was still on the radio in '84-'85 and it still felt like there was a good reason to be.
It was the last burst of creativity that spoke to me the way that punk had done and when it was over, so was my radio career.
My taste for noisy and angular guitars had become so predictable at this point that the wife only had to hear a few seconds of each before commenting, "Yeah, that's one of yours, alright…"
Many of them were the children of The Fall, especially John Robb's Membranes. His lyrics came straight from the Manchester School of Obfuscation and Snarkology. And Marc Riley's Creepers had an impeccable Fall pedigree, thanks to Riley's status as a former member. In fact, this was the period that found The Fall themselves enjoying an unprecedented amount of mainstream popularity. So for many, The Creepers became the standard bearers of the band's original sound, all scratchy guitars and cheap organ.
Even my beloved Rip, Rig and Panic were still hanging on in the mid-'80's, albeit reinvented as Float Up C.P., a less manic version of themselves that managed to stay inside the lines more often than not. This was not enough, though, and they succumbed after one wonderful album,
Kill Me In The Morning
.
You won't find mention of any of these groups in Simon Reynolds's
Rip It Up And Start Again: Postpunk 1978-1984
,
a book we've flogged here before
and which has just been released here in the U.S. in an expurgated version. His story ends just as theirs begins. Call it Post-post-punk.
The willingness to let the inmates run the asylum had finally disappeared and all that remained were a group of bands that put together cassette compilations (where I was first exposed to many of them) and who often shared and juggled members around.
John Robb is still around in Goldblade, along with one of the fellows from A Witness. Jon Langford (Three Johns) continues to record with the Mekons and produces solo work from time to time. Marc Riley went on to radio fame in the U.K. and now hosts no less than two shows for BBC Radio 6.
It's odd in this current climate of Johnny Cash mania to come across a tribute LP from 1988 that I'd completely forgotten about. Langford and Riley got the idea to put together a band to record a bunch of Cash covers and then find guest artists to sing them. The results were released as
'Til Things Are Brighter…A Tribute To Johnny Cash
and it featured folks like Pete Shelley, Michelle Shocked, Stephen Mallinder (Cabaret Voltaire), Steve Mack (That Petrol Emotion) and others providing vocals for Cash classics like
I Walk The Line, Ring Of Fire, Boy Named Sue,
and
Man In Black.
On the back, there's a picture of a beaming Cash some 18 years ago with his arms around Langford and Riley, probably wondering who these crazy kids were.
It just means a lot more to me than seeing Hollywood awarding itself for spitting out a biopic after he died.
That's just me, though.