What They Want This Christmas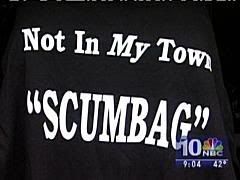 Dec. 5, Philadelphia Daily News:
Upper Darby police are struggling to keep up with the holiday demand for a $10 black T-shirt they are selling.

Why are cops peddling T-shirts? Must have something to do with the message in bold white letters across the front: "Not In My Town 'Scumbag'."

In other words, drug dealers and other criminals, keep your slimy hands out of our community, says Police Superintendent Michael Chitwood Sr.

"We are sending a message," Chitwood said. "We don't want scumbags in our community selling drugs, robbing, raping and pillaging," Chitwood said.

Officers came up with the "scumbag" slogan six months ago when Chitwood asked his department to think up a fresh mantra for the squad cars.

While Chitwood decided on the conservative "Protecting Our Community" for patrol cars, his officers decided to go with the "scumbag" motif for T-shirts.

Since the shirts hit the market two months ago, the department has sold about 350 shirts and has ordered 200 more for their Christmas-time clients.

"It has become the hottest-selling item in town," Chitwood said with a grin.

The department also is selling 8-by-4-inch $2 bumper stickers with the slogan. Cops are also placing the stickers on the facades of condemned drug houses, he said.
I still think it would have been cool to see it on the side of patrol cars, though.