Ivor Cutler 1923-2006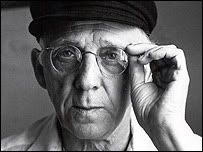 Another great poet/eccentric has left us:
Glasgow Evening Times:
"Ivor Cutler, the Glasgow-born cult poet and eccentric entertainer, has died.
Cutler, who counted John Peel, The Beatles, Billy Connolly and Franz Ferdinand among his fans, was 83.
He died on Friday although his death was just made public today.
The former school teacher and apprentice fitter, who was born into a large Jewish family in the Gorbals, wrote surreal songs and poetry and continued to perform live until 2004.
He also wrote books, did illustrations and made radio shows, while The Beatles gave him the role of bus conductor Buster Bloodvessel in their hit film
Magical Mystery Tour.
He began performing in London in 1957 and went on to appear on the BBC's Home Service.
But his big break came in the early 1960s when he appeared on the
Acker Bilk Show, Late Night Line-Up
and other programmes, as well as becoming a successful recording artist.
Such was the esteem he was held in by John Lennon and Paul McCartney that his 1967
Ludo
album was produced by George Martin and later re-released in 1997 by Creation, then the label of Oasis.
Cutler said he began composing music properly at the age of 34 and only decided to perform his own material because no-one would use his songs.
He was invited to perform his material on the BBC's Home Service and went on to broadcast 38 poems and stories between 1957 and 1963, often accompanied by the harmonium.
Cutler began releasing records with titles such as
Jammy Smears
and
Who Tore Your Trousers?
His album
Prince Ivor
even included a description of how to get to his north London home.
He said: "My way of writing poetry was to go to a jazz concert and just let the music come through me and just write nonsense poems, so that one was listening to the noise of the words rather than the meaning."
A member of the Noise Abatement Society and the Voluntary Euthanasia Society, he appeared on Peel's show from 1969 until the DJ's death in 2004.
Alex Kapranos, of Franz Ferdinand, was among younger fans. He said he admired Cutler "because he has fun and is unpretentious with language".
Today, his website was packed with messages of condolence from fans."
For my own part, I'll remember best his minimalist classic
Go And Sit Upon The Grass
, which was later covered by Robert Wyatt:
Go and sit upon the grass
and I will come and sit beside you

Go and sit upon the grass
and I will come and sit beside you

and we will talk

While we talk I'll hit your head with a nail
to make you understand me

While we talk I'll hit your head with a nail
to make you understand me

I have something important to say

When we're done you'll go and feel the lumps upon your head
and think about what I said
and think about what I said

Go and sit upon the grass and feel your lumps